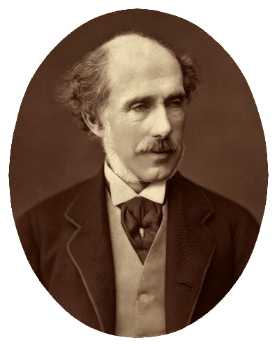 William Cowper-Temple
(My complete GMD bio/commentary is here).
Bibliography
William Francis Cowper-Temple was the Barron of Mount Temple at Broadlands in Southern England. He held many and various political positions throughout his life and indeed came from a very political family, his stepfather, Lord Palmerston, having been Prime Minster twice and his uncle Lord Melbourne once. One of the oddities of George MacDonald's life was how he managed to maintain close friendships with people who had a dislike, or even a grudge, toward one another. He was friends with both John Ruskin and F.D. Maurice, although Ruskin disliked everything about Maurice, even referring to one of his books of written sermons as among the worst he had encountered, but praising MacDonald's 1st volume of Unspoken Sermons as the best he had ever read. MacDonald also had the friendship of both Lady Byron (widow of poet, Lord Byron) and Cowper-Temple even though Lord Byron had a well publicized affair with the wife of Cowper-Temple's uncle, Lord Melbourne many years earlier. Lady Byron had been separated from her late husband after only one year of marriage however, largely due to his many (and sometimes strangely perverted) infidelities, so Cowper may have actually felt some sympathy for her. Still, there was most likely a certain amount of awkwardness between the two of them.

William Cowper-Temple and his wife, Georgina, are probably best known today for the spiritual conferences hosted on their estate at Broadlands during the late 1800s. It must be remembered that during this period in time, especially in Great Britain, interest in Spiritualism was gaining great popularity even among Christians. One might surmise that since the Church of England held little interest in what are typically referred to as "the gifts of the Spirit" by Christians, that Christians who were involved in, or at least had an interest in, spiritual gifts might have attended Spiritualist meetings in order to fill a need in their lives that the Church was neglecting. At any rate, the summits at Broadlands were among the first truly Ecumenical Spiritual conferences ever attended. It was quite common to find Christians together with Hindus, magical folklorists, mediums, and other adherents of wide-ranging diversity brought together with a common interest in the spirit world. It must be said however, that these meetings often went well beyond the comforts of mainstream Christianity, and on many occasions sťances were held. Broadlands was also the center concerning meetings of civic and political natures. MacDonald would lecture there often on Christian and literary topics. He also would spend many a night at this mansion whenever he passed through the area. There is no evidence however, that George MacDonald approved of the more magical or occult-like activities which occurred at Broadlands. The only mention he ever made of these sťances was one that Ruskin had attended that had a profound effect on the famous art critic. Actually, he never mentions the sťance itself, but he states in a letter to his wife, Louisa, that he had one day met the clairvoyant in question that held the sťance Ruskin attended (we know it was a sťance from a letter written by Ruskin) and that he took somewhat of a dislike to her.