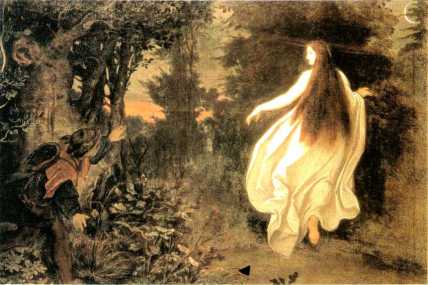 Fairytales
(My complete GMD bio/commentary is here)./font>
Bibliography
Many people believe that George MacDonald's fairytales were quite possibly the best ever produced, and this holds true whether they were written with children or adults in mind. His fairytales generally appeal to both.
He only wrote three children's novels, all three of which can probably be classed as fairytales or at least as having strong fairytale leanings. The first was At the Back of the North Wind in 1871. It followed the story of a little boy named Diamond who was befriended by the North Wind who came in the guise of a beautiful woman with long flowing black hair in which she would carry little Diamond to places of adventure, including one very strange place indeed that would appear to be a paradise not of this world and which lay at the back of the north wind. Diamond is thought by most of his family and friends to be addlebrained and is sometimes referred to as "God's baby" because of this. However, it's pointed out by the narrator that the boy probably has a touch of genius in him and is so bright that others don't understand him, and thus, take him for being somewhat incoherent. Diamond is a born metaphysician. His thoughts are so lofty they transcend ordinary life as most people know it. He's aided in his metaphysical musings by North Wind who often gives him dreams of deep meaning. The story is in many ways the most profound thing ever written by MacDonald concerning dreams and extraordinary states of consciousness. Mark Twain's children loved this book and wore out several copies. Both he and C.S Lewis borrowed many ideas here for their own stories. The lady North Wind may very well have been the catalyst for Twain's character--The Superintendent of Dreams--in his unfinished tale--The Great Dark.
The Princess and the Goblin came out the following year. It was an immediate success; however, MacDonald didn't choose to follow up on that success with the same immediacy. He waited eleven years to come out with a sequel called The Princess and the Curdie. The latter was the favorite of C.S. Lewis. These stories follow the young lives of Princess Irene and a boy named Curdie who works in the mines beneath a mountain which is full of Goblins. Irene's great, great grandmother, who is much more like a fairy grandmother, also figures heavily in the mix of things as someone who is more or less a representative of God. This same grandmotherly figure would appear in many of MacDonald's best fairytales, particularly The Wise Woman. Curdie's struggle with belief plays a big role in the first story because Irene is the only person who can see this fairy grandmother at first. But in time Curdie will come to believe Irene, and once he has faith, he then will meet this extraordinary woman too. In the sequel, his faith is put into action when the fairy grandmother sends him on an errand to save the kingdom.
While George MacDonald didn't write a lot of fantasy novels, he did write several other short stories in the fantasy/fairytale genre for children and adults both. Among the best are The Wise Woman, The Golden Key, The History of Photogen and Nycteris, and The Castle.