Novalis
(My complete GMD bio/commentary is here).
Bibliography
George MacDonald stayed out the 1842-43 school year, probably due to a lack of funds. During this year, Greville records that his father traveled somewhere in the far north and took up employment cataloguing a library at a castle or mansion, the location of which is unknown,

but generally thought to be either Dunbeath or Thurso Castles. Greville surmises that these months spent working in the library may have been very important to his father. Many of his stories took place at locations which contained a library, Lilith, Phantastes, and The Portent in particular, but he also made use of a library in at least five other tales. Greville also suggests that the description of the library in The Portent may contain some autobiographical elements, especially when the main character says, "I likewise came upon a whole nest of the German classics ... I found in these volumes a mine of wealth inexhaustible." It's quite likely that while cataloguing at this castle or mansion, that MacDonald did in fact first take up his interest in German authors, at least two of which would remain favorites throughout his life. One was E.T.A. Hoffmann who we'll talk about in the ETA Hoffmann section of this website. The other was Friedrich von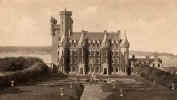 Hardenberg, generally regarded as the father of Romanticism, and better known under his penname--Novalis. MacDonald would translate and publish at least twenty one of his poems.
Novalis is thought to have had a mystical vision of some sort while visiting the grave of his young fiancé, Sophie von Kuhn, and from this experience came many of the poems he wrote in the series--Hymns of the Night. MacDonald would translate his Spiritual Songs and have them published at his own cost as Christmas gifts for his friends and family in 1851. This was the first item he ever had published. Twenty five years later his translations of Hymns of the Night would be published by Strahan in a volume called Exotics, along with a few other pieces MacDonald had translated. Later, in 1897, Longmans/Green Publishing would reprint these along with MacDonald's translation of Novalis' A Parable (From The Disciples At Sais), and several items from other authors which MacDonald translated from both German and Italian.
Much more important to MacDonald would likely have been the two unfinished stories Novalis was writing at the time of his death: Henry von Ofterdingen, and The Novices of Sais. He made great use of sleep and dreams throughout them, and the influence on MacDonald's own tales is quickly discernable to anyone having read both. Although Novalis studied law, he was from a mining family, and thus he often made use of events in underground mine shafts in these stories, something MacDonald would borrow for his classic children's novel, The Princess and the Curdie, and several other tales such as The Golden Key. While Novalis was an admirer of the Christian Mystic tradition (including the renegade Jakob Bohme), he also could be quite pragmatic in his politics and philosophy, and many of his philosophical writings became influential to the German mindset of the late 18th century. He was particularly disparaging toward the secularism of the French Revolution.
Tuberculosis claimed the life of Novalis just as it had his beloved Sophie four years early. He was not quite twenty nine years of age. His writings would not only influence MacDonald but several other authors including Thomas Mann and Herman Hesse.