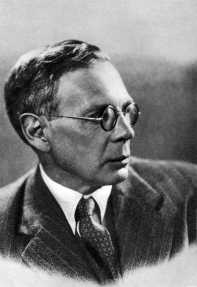 Charles Williams
(My complete GMD bio/commentary is here).
Bibliography
Charles Williams is probably best remembered today as having been one of the Inklings, a group of literary men mostly associated with Oxford faculty members. Williams along with C.S. Lewis and his brother Warren Lewis, J.R.R. Tolkien, Owen Barfield, Roger Lancelyn Green, Nevill Coghill, and Hugo Dyson were the party members most commonly known to many of us.
Williams probably has the reputation of being the most misunderstood Christian writer of all time, even more so than George MacDonald. Books and web pages abound with misinformation concerning both the man, and his beliefs. It's repeatedly said that he once belonged to the Golden Dawn Spiritualist group. They, in the minds of many, have a reputation for magical associations, and because the novels of Charles Williams often employed characters with dark magical connotations, he himself is connected with magic and witchcraft in the minds of many simple thinkers. In actuality, he never belonged to the GD, but instead joined an offshoot of the group started by E.A. Waite called the Fellowship of the Rosy Cross or--FRC. The FRC had specifically come about because many in leadership of the GD (particularly the poet--W.B. Yeats) wanted the group to focus on magic. Waite and others in the group who had no interest in magic, but instead were simply looking for fellowship with their own kind who also were searching for a mystical connection with God, left and started the FRC to do just that. Shortly after the group began Williams joined. It must be remembered that, in the latter half of the 19th and early part of the 20th century, Spiritualism was a dominate force in the world. Many Christians belonged to these groups including those in church leadership. It was in fact the pastor of the Anglican Church Williams attended who introduced Williams to Waite. The 19th century found Materialism at its height throughout Europe. What the Church has always referred to as spiritual giftings were looked down upon and were seldom spoken of or practice in the Church. If Christians found themselves with a spiritual gift such as visions, prophecy, dreams and interpretations etc., and if they found the Church itself looking skeptically on these abilities, this left them little alternative but to seek out likeminded people in other communities. This is largely how mystical groups like the FRC came into being. Earlier the GD also was primarily a mystical organization and had many Christian

members, two of which were T.S. Eliot and Evelyn Underhill, authors that would become lifelong friends to Charles Williams. And while Williams had no interest in practicing magic that we're aware of, he did love poetry and struck up at least a limited friendship with W.B. Yeats who was the most renowned poet in England during this time. By the late 1920's many of the more legitimate Christians who had taken up membership in a Spiritualist group had abandoned ship. Williams, Eliot and Underhill were among them. Like most people who have once belonged to a Freemasonry faction only to later leave it, the three never spoke about why they left. Apparently they felt a need to keep their promise of secrecy even though they had given up their memberships. After all, a promise is a promise. One thing we do know however, is that all three of these people began to have ministries that flourished in the Church once they turned their backs on Freemasonry. In fact, Charles Williams went well out of his way to try and discourage the well known poet, W.H. Auden, from joining the FRC. Not only did Auden not join, but Williams talked him into becoming a member of the Church of England.
While employed as an editor at Oxford Press, Charles Williams wrote many books and magazine articles of his own, even including a fair number of book reviews. His poetry is dense and difficult. Eliot once confided to Lewis that he could never make head or tails of it. Lewis, however, did understand the poetry of Williams fairly well and developed a deep appreciation of it. He devoted a lengthy commentary on Williams' poetry in the collection titled: Taliessin through Logres, The Region of the Summer Stars, and Arthurian Torso. Williams wrote several biographies and commentaries on a number of different subjects, and although he would have liked to best be remembered for his poetry, it was the seven otherworldly novels he wrote that most people reminisce about. The world has never seen anything like them. Williams wrote all of his novels in the 1930's and thereafter, long after cutting off his ties with Freemasonry. His novels, however, have many smatterings of occult practices carried out by various characters. This has led some to assume he was involved with occult matters himself, but this is highly unlikely. The more one reads his novels the more one comes to realize that he's preaching to his old friends and acquaintances he had left behind in the FRC and the GD. There are two classes of people who practice spiritual rituals within the novels: one with selfish fixations, and the other who wishes only to do good. Often the latter is spiritually gifted in some way while the former attempts to work some kind of magic by way of familiars and rites. The distinction becomes more clear as the reader becomes more familiar with the books. Charles Williams was in fact a great defender of Christian faith and the Church of England. He had a pronounced disdain for Gnosticism in many of its forms, most of which is outlined in his book--The Descent of the Dove--a book about the history of the Holy Spirit within the Church.
Williams included a poem by MacDonald entitled "The Yerl o' Waterydeck" in A Book of Victorian Narrative Verse, a volume he edited for Oxford Press and published in 1927, almost a decade before he would meet C.S. Lewis. Whether or not Williams had any familiarity at this time with any of MacDonald's work other than his poetry is unknown. However, Lewis, one of MacDonald's biggest fans, would surely have filled Williams in on what he knew and admired in MacDonald's books after the two men met in 1936. Williams only wrote two of his seven novels after 1936, Descent into Hell--1937, and All Hallows' Eve--1945. Both novels have many elements within them that give the impression that Williams had studied Lilith at least to some degree. The associations between the work of Williams and George MacDonald is fully explored in my George MacDonald full length biography. Here you can view A Bibliography of the Works by Charles Williams. Also see The Charles Williams Picture Page.