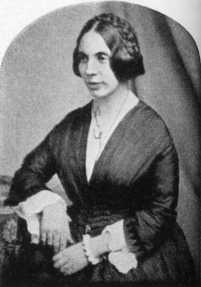 Wife
(My complete GMD bio/commentary is here).
Bibliography
Louisa MacDonald nee Powell, two years older than her husband George, was born into a family of Scottish tanners in November of 1822. George MacDonald was introduced to her and the Powell family through his cousin (and closest friend for many years), Helen MacKay, who had married Louisa's brother, Alexander Powell, a year earlier.
Louisa was a very petite woman. Even after having given birth to all eleven of her children she had retained her small well-proportioned figure and tiny waist. This was actually the subject of much interest to their new friends in America during her husband's famous lecture tour in the early 1870's. Greville recounts how he often during the course of this tour was fetched to their rooms to bring back a family photograph of all the children to show as proof to the disbelieving eyes around them that this small woman had actually been the mother of such a hoard.
To earn some extra money for the family, Louisa would produce performances of well-known plays using her family as the actors. The

Pilgrim's Progress became almost a signature play for them, George recreating the role of Mr. Greatheart, and eldest

daughter Lily, said to be a very promising actress, playing the role of Christiana. These plays would furnish enough money to pay for the family's wintering in Italy, and spending winters in Italy became necessary for the unhealthy lungs of George MacDonald. The plays, particularly The Pilgrim's Progress, were well received by many, including George's friend at Oxford--Dean Stanley.
Louisa died in 1902, three years before her husband would follow.