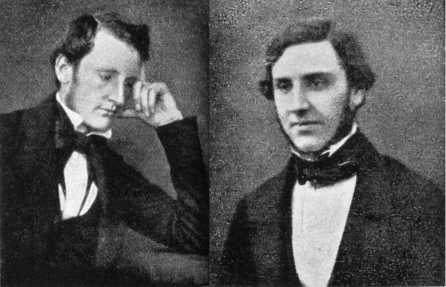 Siblings
(My complete GMD bio/commentary is here).
Bibliography
Hardly anything is known about George MacDonald's three sisters. They were Isabella, Louisa, and Jane. Isabella died at fourteen of tuberculosis. The oldest MacDonald son was Charles, followed by George, James, Alexander, John MacKay, and John Hill. John MacKay died before he was a year old. James died at the age of eight. His death was somewhat of a family mystery. We're not told how he died, but Greville informs us that many of his school chums thought it had to do with the regular whippings he had gotten from their schoolmaster. George would in adulthood write about the incident in the form of fictional narrative in his novel--Alec Forbes.
Charles, the eldest son, was very much given to get-rich-quick schemes and seems to have not had as much to do with the family after his marriage compared with his brothers. (A descendant of Charles MacDonald, Terry Jenkins, has done a good deal of discovery work and has uncovered a large amount of evidence showing Charles was actually a very good businessman, contrasting much that Greville Macdonald had wrote about his uncle in his biography of George and Louisa. Mr. Jenkins wrote an article about Charles MacDonald which was published in The Scottish Genealogist The Scottish Genealogist Vol. LXVI, No. 3, pp. 81-89, September 2019. A PDF copy of the article can be found here.)
Alexander (Alec) and John (John Hill--the youngest) had much more in common with the faith of George MacDonald and their grandfather. Virtually every known photograph of George MacDonald shows him with a beard. For those who are curious as to what he looked like without it, Alec, pictured above on the right, is said to have looked quite a bit like George. Alec, however, was lacking in his brother's intellectual abilities, his mind being more geared toward honest business. While he enjoyed poetry (especially Wordsworth) he was never blessed with any writing talents. He died quite young a the age of twenty six.
John, pictured above on the left, was said by all, including his brother George, to be the most intellectually gifted of the MacDonald brothers. He placed higher in school at Aberdeen than even George did, winning honors in Logic and Moral Philosophy. But John had a great sense of hopelessness that dogged him from his earliest years. He was given to bouts with something akin to solipsism, constantly questioning within himself the nature of reality. Still, he managed to keep a faith in God which was more along the lines of hope perhaps. He was very restless, seldom staying with a job for very long, and would sometimes travel a great deal for one so young, even taking a teaching position in Russia for a time. His brother, George, was very fond of him and wrote many characters based on John in several novels including the character of Ian in What's Mine's Mine and Eric Ericsen in Robert Falconer. George would also include several poems by John in a collection titled: A Threefold Cord, which included poems by George, John, and Greville Matheson.
John would, like his brother Alec before him, die young at the age of twenty eight from tuberculosis. Interestingly, his father claimed to have seen his dead son a few days afterward, walking down a road near the home and then disappearing around a bend nowhere to be seen. The old man took it as a sign that this son was leading him home to Heaven also, and in little more than a month he too would die of a heart attack. Much more is discussed about John Hill MacDonald in the full length biography.